Thursday was the arrival of British Prime Minister Rishi Sunak in Tel Aviv, where he expressed his "solidarity with the Israeli people" amid the ongoing Israeli bombing of the Gaza Strip, which resulted in the destruction of residential buildings and the deaths of over 3,400 Palestinians.
The visit takes place shortly after Middle East tours by German Chancellor Olaf Scholz and US President Joe Biden. Among the places on Sunak's agenda in the area might be Jordan and Egypt. Before moving on to other significant regional capitals, the British prime minister intends to hold talks with President Isaac Herzog and Israel's Prime Minister Benjamin Netanyahu on his tour.
Rishi Sunak's take on the on-going War
According to Sunak's office, Rishi Sunak and Israeli President Isaac Herzog met in Israel on Thursday and emphasized the need to prevent the region's violence from escalating further.
"Both President Herzog and the Prime Minister emphasized how urgent it is to stop the violence in the area from getting worse. They decided to keep collaborating towards that goal," a statement from Sunak's office stated.
The statement also stated that Sunak and Herzog had decided to keep trying to get British citizens who have been kidnapped in the fighting released. Benjamin Netanyahu was also given a private meeting by Sunak.
The prime minister of the United Kingdom, who has been advocating for Israel's "right to defend" itself against Hamas attacks, met with Israeli President Isaac Herzog and is expected to visit Prime Minister Benjamin Netanyahu as well.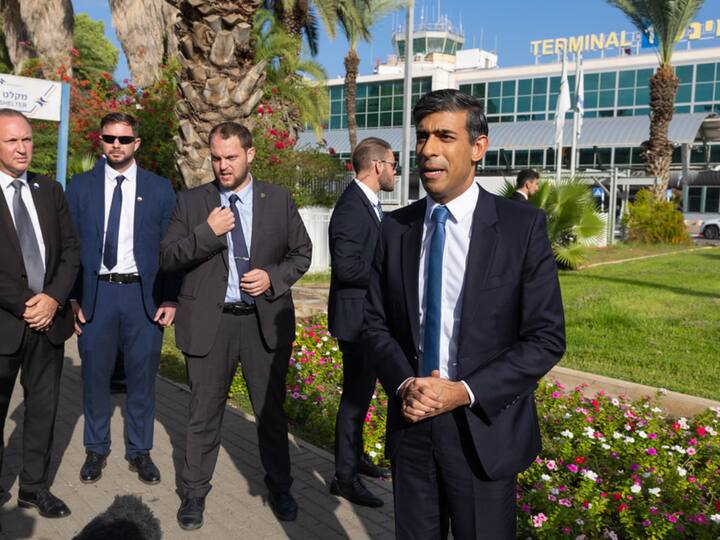 The Israel – Palestine War
The conflict, which was launched by the horrific Hamas onslaught on Israel on October 7 that, according to officials, has killed more than 1,400 people, has incited anger towards Israel and its Foreign supporters throughout the Middle East.
According to Gaza's health ministry, which is under Hamas control, 3,478 people have died as a result of Israel's retaliation. Over one million individuals have been forced to flee as whole neighborhoods have been flattened and their access to food, water, and electricity has been cut off.
Following the Hamas assault on Israeli territory that resulted in the deaths of over 1,400 people, Britain has stood firmly with Israel. Additionally, Hamas captured at least 199 individuals.
The prime minister of Britain declared, "We acknowledge that Palestinians are also victims of Hamas." I'm glad you made locations accessible to humanitarian help."
In an effort to demonstrate the unity of the West, Mr. Sunak's travel coincides with similar trips to the Middle East by other European leaders.
British Intelligence Involvement
Rishi Sunak stated earlier on Wednesday that British intelligence was moving quickly to identify the perpetrator of the explosion at the Gaza hospital. He asked lawmakers not to "rush to judgment" during his speech in parliament.
In addition to getting ready to meet other regional leaders, Sunak has challenging home politics to handle. According to Bloomberg, there has been a sharp increase in reports of Islamophobia and anti-Semitic incidents as a result of the Israel-Hamas war.
Rishi Sunak said that he will make sure the United Kingdom leads in this attempt. He also added In order to prevent the war from dangerously escalating further, leaders in the region and worldwide should unite.
Western leaders are lining up to see Netanyahu as the death toll from Israel's ceaseless bombardment of Gaza rises in an attempt to stop the crisis from spreading to other nations.
Sunak's visit takes place concurrently with the arrival of the UK Foreign Secretary, James Cleverly, who on Thursday night embarked on a multi-nation tour throughout the Middle East in an attempt to stop the crisis from escalating further and to find a peaceful end.